Location: Arts Count Theatre (2 Daly Ave)
How to Massage Your Bear: A Couple's Guide to Home Massage
In this workshop you will learn how to set the ambiance and use what you have at home to give your partner, special someone, or perfect date a soothing relaxing massage. Help relieve their stiff neck or back, relax and de-stress them, or even entice a little excitement and foreplay. We will work with what you have at home, so no need to rush out to buy a table, expensive oils and equipment.
You will learn some basic Swedish Massage techniques and how to administer them safely, as well as how to give the massage with proper ergonomics, and body positioning to make it a comfortable experience. All Swedish Massage techniques will be demonstrated in person and participants will have the opportunity to try out these techniques on the volunteer if they'd like.
Topics include Lighting & Music, Equipment, Oils and Aromatherapy, Massage Techniques, Sanitization & Cleanup, and Consent.
Presenter: Steven Duguay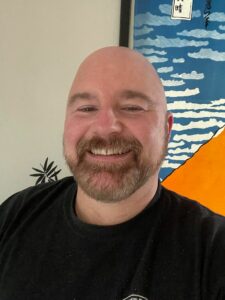 I'm Steven Duguay and I've been a Registered Massage Therapist since 2012, currently working in my home-based practice in Kingston Ontario. I was Mr. Ottawa Bear 2014 and had the special pleasure of meeting many wonderful friends and clients from the Bear community. I've worked with many body types, promoting a healthy body image in a safe and judgment-free environment. Human touch is so important, especially now, with the pandemic lessening physical contact.
I love what I do! I'm a Reiki Master and energy worker so I intuitively use this throughout my massages to promote a unique experience.
I love reading, doing puzzles, playing video games, swimming, travelling and getting to know people. I am partnered to a wonderful and sexy otter, David. We have our own small business selling a wide variety of health and wellness products and we make homemade oil blends and beard oils under the name of Cub & Otter.